There are many ways to define interior design styles. Here, we have listed a short description of each design style and how they differ so that you can define your personal design ideals.
Modern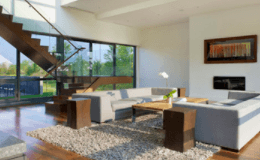 Modern is a broad design term that typically refers to a home with clean lines and a simple colour palette. Materials most commonly used are metal, glass and steel. Modern design styles are simple and sleek and do not include a lot of accessories.
Contemporary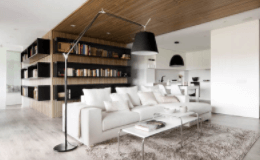 Modern and contemporary are two styles frequently confused. The major difference between modern and contemporary design styles is that modern is a strict interpretation of design that began in the twentieth century. Contemporary is less rigid and does not stick with one particular style. As an example, the contemporary style may include curving lines, whereas modern design does not.
Minimalist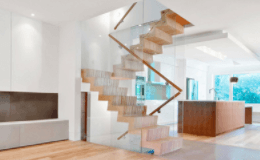 The minimalist interior design style follows the modern design style, but takes it further. Colour palettes are neutral, furnishings are simple and functional with ultra-clean lines. If there are any accessories these are also functional and the décor is plain.
Industrial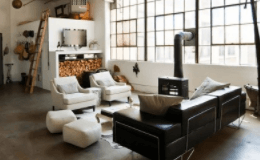 Industrial style draws inspiration from a warehouse with its unfinished rawness. This includes exposed brick, ductwork and wood. Industrial interior design is most commonly seen in industrial buildings that have been transformed into residential accommodation with high ceilings, old timber and dangling metal light fixtures and sparse functional furniture.
Mid-Century Modern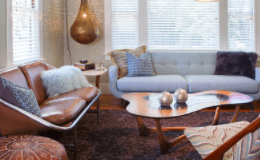 Mid-century modern is a throwback to the design style the 1950s and 1960s. This interior style is a mix of retro nostalgia and some elements of minimalism. Functionality is the main design theme, with natural or organic shapes such as the 'egg-shaped' chair, with easy-to-use contemporary designs and simple materials.
Scandinavian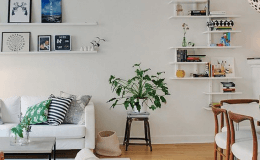 Scandinavian furniture design is simple and understated, but so well made that it is like a work of art, though each piece is functional. The style also includes all-white colour palettes with natural elements like wood, but also bright plastics and steel. Colour is added through artworks, throws or furs. Accessories are kept to a minimum.
Traditional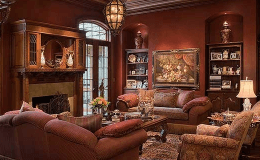 Classic details, sumptuous furnishings and an abundance of accessories to give depth, layering and multiple dimensions make the traditional interior design. Often featuring dark, finished wood, rich colour palettes, and a variety of textures and curved lines. Furnishings have ornate details and fabrics, like velvet, silk and brocade, that can include a variety of patterns and textures.
Transitional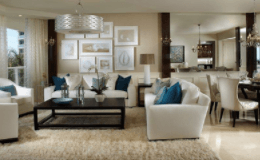 Transitional styles mixes both traditional and modern design to create an appealing and unexpected balance. This can mean mixing modern materials, like steel and glass, with plush furnishings. Transitional design also includes comparatively neutral colour palettes to create a calming and relaxed space that manages to feel both stylish and sleek, and warm and inviting.
French Country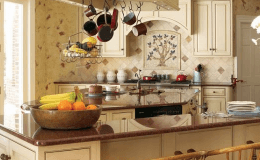 Warm, earthy colours matched with worn and ornamental wooden furnishing, just as you would expect from a farmhouse defines the French country interior design style. This often includes soft and warm tones of red, yellow or gold and natural materials like stone and brick. Decor can include collections of ornate porcelain dishes and heavy linens and bed coverings.
Bohemian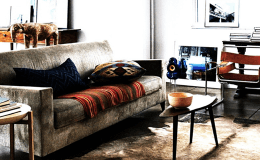 Bohemian interior design, like fashion, reflects a carefree lifestyle where you follow your hearts desire. Homes can include vintage furniture and light fixtures, and an eclectic mix of textiles and rugs, plus other accessories you love. It doesn't matter what furniture and accessories you have since the Bohemian attitude allows anything, as long as you love it.
Rustic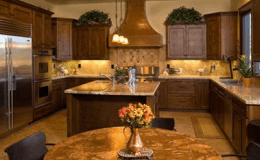 Rustic design is inspired by nature, using raw and often unfinished elements including wood and stone. Features may include vaulted ceilings with wood beams or reclaimed wood floors. This does not mean that you cannot add modern furnishings and accessories.
Shabby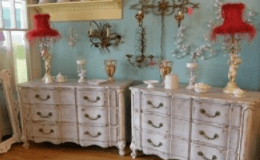 Shabby chic is vintage-inspired style, but with a more feminine, soft and delicate touch. Shabby chic furnishings are often either distressed or made to appear that way with paint usually having antique-style finishes. The Shabby Chic colour palettes include white, cream and pastels.
Hollywood Glamour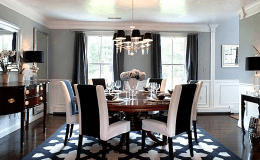 Hollywood glamour is also known as Hollywood Regency and is a design style that is luxurious and opulent. This a dramatic design style is perfect for making a statement. The design style can incorporate some features of Victorian design, including plush, velvet furnishings and antiques. The colour palettes are bold with gold, purples, reds and turquoise.
Coastal/Hamptons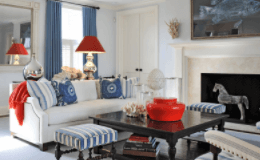 Coastal style also dubbed Hamptons style, features light colour palettes with cool neutral shades paired with blues and greens. Furnishings are often white or beige. The room can contain elements of wood and accessories are often inspired by the sea.