Home design trends change from year to year whilst others stay for a generation. Current home interior trends include unusual textures and bold colours. Here we look at more home interior trends in 2017.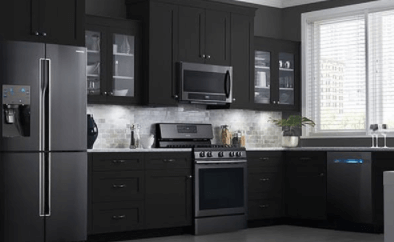 Matte appliances
For the past few decades stainless steel has been the most popular appliance trends. The new look for the kitchen is bold without being shocking. A matte finish on an appliance that is usually glossy can be a surprise that adds layer to your kitchen, and a touch of class. Appliances are available in smooth matte finishes, but they are still the colors of old, being white, black and slate grey.
Nailhead details
This accent is a classic for upholstered pieces, but recent trends see nailhead details being used in new ways. Nailheads not only pump up the detail in standard lines on chair seats, but on other furniture too. If you have a sofa set away from the walls in a room, consider dressing up the back with a simple nailhead detail or another of the interior trends is to use nail heads to create a pattern on the piece of furniture or even light fittings.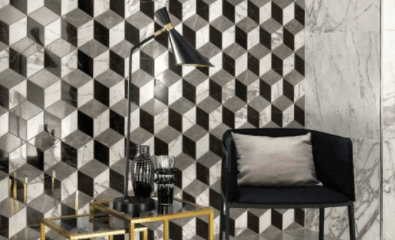 Marble
Marble is becoming one of the largest trends in interior decoration, particularly when paired with wood and metal. For modern day luxury items, marble is a classic style, whether you use actual stone marble to marbelised paper and accessories. You can find ceramic tables glazed with clay that look like marble, as well as sheets of metal treated to look like marble for an industrial look. There are many marble accessories for the home interior, ranging from dinnerware to kitchen and bath items. Alternatively, create unique your own marble home decorations by following online tutorials including dipping white bowls into a mix of nail varnishes.
Jewel tones
Vibrant jewel tones are one of the big trends for 2017. You can choose a few accent pieces or an entire jewel-tone color scheme for decoration with glamour. Deep jewel tones include emerald green or amethyst, but also pastel colors. Choose single pieces such as a light fixture, side chair or occasional table for a pop of color without being too bold. If you are feeling brave, opt for a large sofa or paint the walls. Gemstone tiles for the kitchen and the bathroom are a luxurious and sensational way to add jewel tones to these rooms. A kitchen counter or bathroom vanity in a beautiful agate surface will also add glamour to your interior.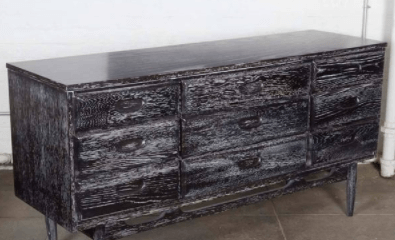 Cerused wood
A "cerused" finish refers to the technique that brings out the unique grain of wood. Both light and dark stained cerused woods copy the Art Deco trends, and craftsmen are experimenting with different types of woods with porous, open grains. The inherent beauty of the wood with its movement and depth can be used in home interiors including cabinets, tables, chairs, and storage furniture.
If you want a traditional look, try a full cerused paneled room. This is striking and glamorous while still inviting, since it is not as heavy feeling as a traditionally paneled room.
Subway tiles
Subway tile are one of the trends of the generation. It is a classic and versatile tile choice, that works with all sorts of home design ideas and is also affordable. The new look is all about the unexpected element. Earthy tones and stone inspired materials will give a natural look to your home. For a more luxurious and glamorous look, choose metallic tiles. Adding a dark grout to pastel tiles make any back-splash standout. Another of our interior ideas is to combine trends and consider a matte glass subway tile.
Smart home features
As our lives revolve more around our devices, so will our homes. With a new generation of smart furniture that creatively incorporate charging docks and areas specifically dedicated to these devices into the design of a space, including nightstands and coffee tables, it is possible to charge your phones without trailing wires. Hidden smart home features to suit all styles are one of the trends for 2017 that is guaranteed to grow over the years as we incorporate more and more smart features into our home interiors.